Accolades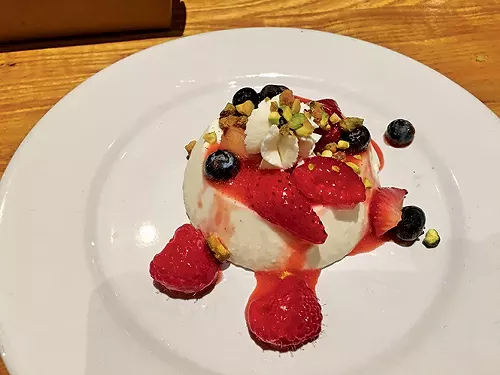 Oasis Cafe in Salt Lake City has been named Utah's only winner of the OpenTable Diners' Choice Awards for the Top 100 Best Brunch Restaurants in America. The list of winners is derived from more than five million reviews submitted by OpenTable diners for more than 19,000 restaurants in all 50 states and the District of Columbia.
~~~
Oasis is one of my favorite spots for breakfast, lunch, brunch or dinner, with an eclectic menu and a peaceful ambiance that puts a smile on my face. Fresh flowers, statues of the Buddha, desert landscape photography  - truthfully, it's one of my favorite spots for breakfast, lunch or dinner in Salt Lake City, a tranquil escape that lives up to its name.  Some of my favorite menu items are the breakfast burrito, the German buttermilk pancake or the huevos rancheros for breakfast; the Reuben, the turkey burger or the grilled cheese with tomato soup for lunch; and the stuffed filet medallions, the chicken and goat cheese tamales, or the Mediterranean salad for dinner. For dessert, there are lots of options, but I recommend the vegan chocolate cake or the lavender infused panna cotta.
- Marsha Maxwell, About.com
~~~
It's no secret that I visit Oasis Cafe on a regular basis.
- Amanda Rock, AmandaEats
~~~
"At Oasis Cafe, the restaurant continues to build on their reputation for great brunch and lunches –evolving their dinner menu month in month out. Over the past few months, I've enjoyed some fine evening meals at the restaurant including Butter Poached King Crab with asparagus risotto, sweet pea emulsion sauce ($24) and Sesame Crusted Ahi Tuna with phō noodles, stir fried vegetables and carrot ginger lemongrass broth.
- GastronomicSLC.com
~~~
Oasis Cafe is doing dinner right with a new affordable, three-course, prix fixe menu, great tasting dishes, and unique flavors. Executive Chef Jared Young, along with Chef de Cuisine Efren Benitez, bring an authentic, classic cooking style to Oasis Cafe. The dinner menu is filled with light and quality ingredients and they work closely with local sustainable and organic farmers and ranchers to ensure an exceptional dining experience. Every month, a three-course special changes weekly for just $25. As summer evenings come to a close, I highly recommend you get to Oasis Cafe for dinner and enjoy their amazing, tucked away patio as well as their refreshing and healthy dishes. These dinner menu items reflect the best of what's available from local farms, ranches, and fisheries.
- HeartBeatNosh
~~~
 Spectacular courtyard and peaceful interior with gourmet "fabulous food that's fabulous for you." Standouts include seared ahi, lobster pasta, honey dijon fillet, and amazing vegetarian options.
- Visit Salt Lake
~~~
Oasis Cafe has slowly transformed into a meat-loving place to gather, still maintaining excellent vegetarian and fish selections. And they are not just a good spot for brunch, as they have amazing salads at lunch time and a dinner menu with so many tasty entrees its seriously hard to choose. You know a place is good when you leave thinking about what you want to try on your next visit. We left perfectly full yet talking about a return visit to the patio this summer and getting to taste their Wild Mushroom Strozzapreti Pasta and their Slow Roasted Chicken. So if you're like us and had a preconceived idea of Oasis Cafe, now you know that they offer more than fish and vegetarian options, plus they have an amazing heated patio and are located right next to a quaint book store which you can roam around before or after a meal.
- SLCFoodie
/* Style Definitions */ table.MsoNormalTable {mso-style-name:"Table Normal"; mso-tstyle-rowband-size:0; mso-tstyle-colband-size:0; mso-style-noshow:yes; mso-style-parent:""; mso-padding-alt:0in 5.4pt 0in 5.4pt; mso-para-margin:0in; mso-para-margin-bottom:.0001pt; mso-pagination:widow-orphan; font-size:10.0pt; font-family:"Times New Roman"; mso-ansi-language:#0400; mso-fareast-language:#0400; mso-bidi-language:#0400;}